W&H Systems Wins Warehouse Innovation Award in Beverage World Magazine
Posted April 21, 2015 in News, Press Releases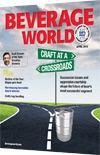 Chosen for Providing State-of-the-Art Solutions for Growing Companies
Carlstadt, NJ – April 21, 2015 – W&H Systems, Inc., a full-service integrator of material handling systems, announces the company has received a Warehouse Innovation Award from Beverage World magazine. These prestigious inaugural awards honor companies that are leading beverage warehouses into the future with exceptional services and products. W&H Systems has helped hundreds of beverage companies improve throughput, streamline operations and gain new efficiencies within their distribution operations with robust and innovative material handling systems.
"In the beverage industry, SKU proliferation means beverage space is at a premium, increased competition requires faster throughput, and exponential growth intensifies customer service levels, which requires beverage companies to either build a new distribution center or streamline operations within an existing one," said Don Betman, President of W&H Systems. "W&H Systems had been helping beverage companies meet these growing issues for years and we are honored to be recognized for our significant work in the industry."
Most recently W&H Systems acted as the material handling systems integrator to implement the latest cutting edge beverage distribution operations for Wirtz Beverage and Southern Wine and Spirits. W&H Systems provides "The Total Warehouse Solution" that includes design, equipment, implementation and support of conveyor systems, high-speed carton and unit sortation, AS/RS, palletizers, paperless picking and packing systems. Beverage companies receive significant labor savings, reduce product damage and operator error, meet demanding throughput requirements and gain substantial efficiencies from W&H Systems designs and solutions.
Most recent client successes include Wirtz Beverage where W&H Systems helped consolidate three facilities into one new distribution center. For Southern Wine & Spirits of California, W&H Systems was selected to be the material handling systems integrator for their new highly automated warehouse in Union City, CA. "Clients chose to work with us because we have over 20 years of success in the wine & spirits and beverage industries implementing best practices in distribution operations," said Paul Laman, VP of Sales at W&H Systems.
Laman has been chosen to speak at BevOps Fleet Summit, scheduled for April 21-24, 2015, at the Hard Rock Hotel & Casino in Las Vegas. In its 10th year, BevOps is the premier event for beverage warehousing, operations and fleet management hosted by Beverage World.
About Beverage World Magazine
Beverage World's mission is to serve the global beverage market through in-depth intelligence, analysis and insights, coverage of innovation and news for beverage marketers, producers, distributors and retailers around the world. Beverage World is run by a veteran team of editorial, sales and marketing professionals with nearly 70 collective years of experience in beverage magazine publishing, digital media and conference management. We target and reach the strongest worldwide audience of beverage executives and decision-makers. Our experienced team of editors and contributors are dedicated to uncovering best practices, delivering original industry research and identifying emerging trends that have the potential to change the face of the global beverage market. Beverage World is part of New York-based Macfadden Communications. Find out more at www.BeverageWorld.com.
About W&H Systems, Inc.
W&H Systems understands that the most efficient warehouses are led by real-time information and with direct access into each function of your distribution center. We recognize that viewing your warehouse's production from your iPad, anywhere, at any time, will save you money. Shiraz Warehouse Control System gives you visibility and control to make "on-the-minute" decisions, getting your product out the door faster and for less.
For over 50 years, W&H Systems has provided "The Total Warehouse Solution," including design, equipment, implementation and support. The wide range of equipment used in the material handling systems includes: conveyor systems, high-speed carton and unit sortation, AS/RS, GOH systems, palletizers, paperless picking and packing systems, and specially designed equipment to coincide with our material handling system designs. W&H continues to provide innovative solutions for tomorrow's requirements, today! Visit us at www.whsystems.com.
Featured Case Study

Read how we have helped many clients optimize their warehouse operations, plan for the future, and overcome material handling challenges. We have clients in the wine & spirits distribution, food & beverage, apparel, retail, consumer packaged goods, electronics, and pharmaceutical industries.

Resource Library