W&H Systems Wins SDCE Green Supply Chain Award
Posted November 10, 2014 in Blog, News, Press Releases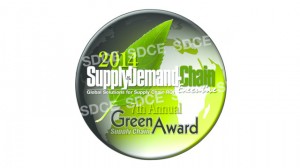 High-Efficiency Motors & Energy Management Systems Save Power & Energy
Carlstadt, NJ – November 10, 2014 – W&H Systems, Inc., a full-service integrator of material handling systems, announces winning the 2014 Green Supply Chain Award from Supply & Demand Chain Executive magazine. W&H Systems was chosen for implementing green technologies within several clients' distribution centers, helping them save significantly on energy, which leads to an increase in the bottom line.
"The cost for operating equipment in warehouses and distribution centers is an ongoing cost that requires a substantial amount of electrical power," said Chris Castaldi, Director of Business Development at W&H Systems. "Companies can reduce electrical demand by upgrading to energy-efficient equipment that utilizes high-efficiency motors, such as conveyors, sortation systems, AS/RS and others."
Material handling equipment can be made more efficient with the use of high-efficiency motors and an energy management system that shuts parts of the system down automatically when not in use. If a conveyor is required, sensors detect incoming product and automatically start it up again. By ensuring that equipment is used only when needed, companies can see savings from:
Improved operating efficiencies
Less downtime due to undetected equipment problems
Extended equipment life cycle
Reduction of power draw (much of your bill is based on the highest peak in a month, even though it may last only a few minutes)
Lower costs of environmental compliance
The 2014 Green Supply Chain Awards recognize companies making green or sustainability a core part of their supply chain strategy and are working to achieve measurable sustainability goals within their own operations and/or supply chains in the areas of Sourcing/Procurement, Fulfillment/Logistics, Operations, Product Lifecycle Management, and other areas of the supply chain. The awards also recognize providers of supply chain solutions and services assisting their customers in achieving measurable sustainability goals. For more information, visit www.sdcexec.com.
About W&H Systems, Inc.
W&H Systems understands that the most efficient warehouses are led by real-time information and with direct access into each function of your distribution center. We recognize that viewing your warehouse's production from your iPad, anywhere, at any time, will save you money. Shiraz Warehouse Control System gives you visibility and control to make "on-the-minute" decisions, getting your product out the door faster and for less.
For over 50 years, W&H Systems has provided "The Total Warehouse Solution" including, design, equipment, implementation and support. The wide range of equipment used in the material handling systems includes: conveyor systems, high-speed carton and unit sortation, AS/RS, GOH systems, palletizers, paperless picking and packing systems, and specially designed equipment to coincide with our material handling system designs. W&H continues to provide innovative solutions for tomorrow's requirements, today! Visit us at www.whsystems.com.
Featured Case Study

Read how we have helped many clients optimize their warehouse operations, plan for the future, and overcome material handling challenges. We have clients in the wine & spirits distribution, food & beverage, apparel, retail, consumer packaged goods, electronics, and pharmaceutical industries.

Resource Library