W&H Systems Team Members Run NY Marathon For Charity
Posted November 18, 2014 in Blog, News
Two members of the W&H Systems team recently ran in the New York Marathon. Rudi Lueg, VP Business Development, and David Papillo, Senior Controls Engineer, of W&H Systems both ran the 26.2 miles through the streets of New York City along with more than 50,000 other runners. Rudi came in at 5 hours, beaten by David by 4 minutes, but as this was Rudi's first marathon, his time was incredible.
Rudi ran for Fred's Team, a charity for Memorial Sloan Kettering Hospital, the leading cancer hospital in the US. Rudi and his team raised over $5500. The money raised will allow doctors and researchers to advance research and care—and bring renewed hope to those affected by cancer worldwide.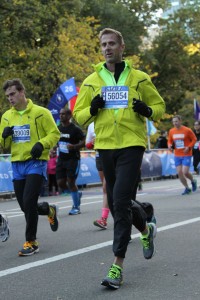 Says Rudi, "Both of my parents died of cancer. I spent a lot of time with them as they underwent all the treatments and took the medications. I am honored to help raise this money in their memory and know it will be used well, to hopefully someday find a cure."
W&H Systems matched the funds raised by the team.
"NYC Marathon is the Holy Grail of marathons, especially to someone who grew up in NY.  Once I started doing them, I knew I would have to do NYC at some point. The spectators lining the route were amazing; except for the bridges and a few remote spots – they were a constant source of encouragement," said David.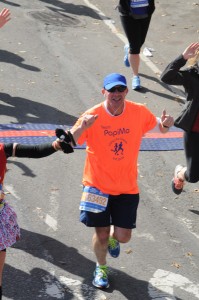 David joins his wife Maureen in training for various marathons with Team in Training, which raises funds for the Leukemia and Lymphoma Society. His has run two other marathons: Quebec City in 2012 and Portland, ME in 2013.
Adds David, "Leading up to this marathon, I thought it would be my last, but after running the marathon in New York City, I'm ready to do it again. Maureen and I are thinking maybe Dublin, Ireland next year!"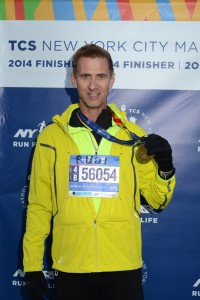 Rudi adds, "I am thankful for the support of my wife and for the people at W&H Systems which allowed me to spend time training for the marathon. I want to also thank all my co-workers at W&H who donated to the cause."
Featured Case Study

Read how we have helped many clients optimize their warehouse operations, plan for the future, and overcome material handling challenges. We have clients in the wine & spirits distribution, food & beverage, apparel, retail, consumer packaged goods, electronics, and pharmaceutical industries.

Resource Library