Adapt, Expand, Lease or Build: Rethinking the Warehouse Space Dilemma
Posted December 15, 2016 in Blog, Material Handling Equipment
Adapt, Expand, Lease or Build: Rethinking the Warehouse Space Dilemma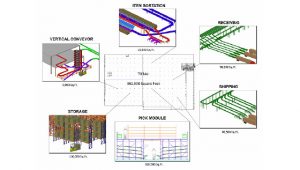 By Allen Sisk
 If your business is growing, you may need more warehouse space. But how do you know how much space you really need? Are you sure you're optimizing the warehouse space you already have? Can you adapt existing space or equipment to maximize utilization and efficiency? Can you add space by expanding up or out? Should you lease additional supplemental space? Or should you start planning for new construction that's designed to anticipate future needs? The answer is, of course, it depends. But here's a clue: whatever the ideal solution, material handling automation is a vital part of the formula.
Why is There a Warehouse Space Dilemma?
It all comes down to space and time. The race for space is all about augmenting storage capacity, increasing labor productivity and speeding throughput. As our industry faces the pressures of omnichannel commerce, including exponential increases in the number of SKUs handled and percentage of item-level picking required, DCs and warehouses are busier than ever. But activity doesn't equal profitability. Material handling automation is one way to reclaim wasted warehouse space and boost overall productivity.
The first step is to assess your current operations and configurations. There are several types of audits and analysis to help you determine whether your current warehouse space is being used fully and efficiently, as well as to identify opportunities for improvement. An effective solution should meet current and/or future needs.
Should you use AS/RS, VLMs and vertical carousels to make the most of unused overhead space? Or implement dynamic goods-to-person systems to minimize travel and streamline workflow? Do you need software that allows configurable picking rules, such as FIFO or other user-specified pick parameters, to adapt to changing conditions, reduce labor requirements and improve throughput?
It all depends
The key is to evaluate the impact of various storage and material handling equipment methods on space utilization and develop strategies to implement the best possible combination of products, equipment, and operating systems for your facility. Configuring the optimum system – or combination of systems – that suits your operation takes deep expertise not only in hardware, software and systems engineering but also in the specifics of your unique fulfillment requirements.
There's no single off-the-shelf solution – even when the shelves themselves are dynamic. Matching system capabilities to the challenges you face requires a confrontation with a complex range of interconnected variables, options, costs and capabilities. In the end, freeing up valuable space is worth the time and effort it takes.
DMW&H offers warehouse equipment evaluations and warehouse space calculation services to help clients determine how best to expand warehouse capabilities within its existing space. Whether you go up, add additional equipment or build new, DMW&H is your material handling systems integration partner.
Featured Case Study

Read how we have helped many clients optimize their warehouse operations, plan for the future, and overcome material handling challenges. We have clients in the wine & spirits distribution, food & beverage, apparel, retail, consumer packaged goods, electronics, and pharmaceutical industries.

Resource Library