Pack To Light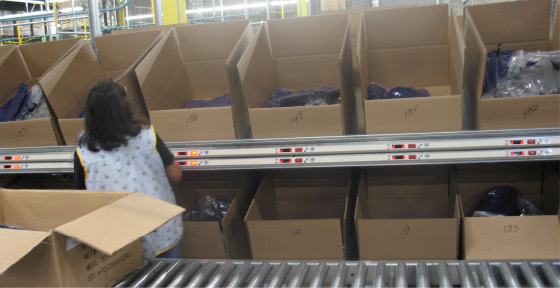 For retail store replenishment, Pack to Light systems improve productivity, speed fulfillment, and decrease errors. These systems are an effective automated sortation method that breaks larger quantities of products into individual customer orders, using light devices to direct operators. Pack to Light systems are ideal for retail store replenishment order fulfillment where a percentage of full cases are broken down into smaller quantities or individual orders. Because of their simplicity, operators can be trained quickly in just a few hours.
Typically, merchandise that is batch picked beforehand is brought to a packing station where operators scan bar codes, for example, on individual pieces of merchandise, then lights turn on to guide packers of where to place the items in which carton. Operators move quickly down the packing line and put items into the correct carton.
Pack to Light Applications Include:
E-Commerce Order Fulfillment
Omni-Channel Fulfillment
Returns Processing
Kitting
Retail Store Replenishment
Order Consolidation
Secondary Batch Pick Sortation
Secondary Wave Pick Sortation
Putaway Operations
Pack To Light systems use light displays to guide the operator where and how to allocate stock to orders, allowing efficient picking from bulk stock. The operator scans each product and flashing light displays at each location indicate which containers require that product and how many items to pack. Once the product is put into the carton, the light is extinguished to confirm the activity was completed.
Pack To Light systems are a space efficient and economical method of fast, high-quality order sortation for companies with a large number of SKUs. Pack To Light systems offer major gains in operational efficiency, additional capacity to handle growth within existing warehouse infrastructures and increased visibility into order progress and productivity rates.
Benefits Include:
99+% accuracy rates
Average increase of 40% greater sortation rates over paper-based methods
Shorter order cycle times
Reduced employee training time
Improved customer service
Lower operational cost through reduced labor, errors, rework and chargebacks.
Space efficient
Cost effective method
Featured Case Study

Read how we have helped many clients optimize their warehouse operations, plan for the future, and overcome material handling challenges. We have clients in the wine & spirits distribution, food & beverage, apparel, retail, consumer packaged goods, electronics, and pharmaceutical industries.

Resource Library