Palletizers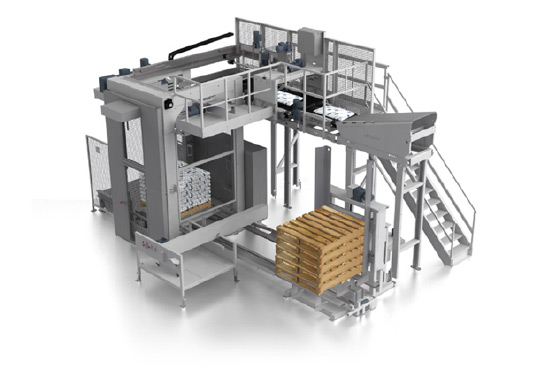 DMW&H palletizers provide speed, flexibility and dependability for palletizing operations. Our palletizers can be configured for virtually any layer pattern, product or container including cases, shrinkpacks, totes and trays.
A wide variety of pallets exist made of different materials (wood, plastic, metal, composite) in a mixture of sizes and weights. Pallets are selected based on load weight, cost and type of conveyor the pallet will be transported on. Most pallets come in a standard size of 48" x 40," however custom pallet sizes are also available.
Some pallets are designed for one-way shipments; others have bottoms on them that allow for easy stacking of pallets on top of loaded ones. Racking pallets fit into open span racks while nesting pallets have peg legs that nest together when stacked; these are suitable for small spaces. Whatever pallet you choose, our engineers will work with clients to fully integrate palletizers or palletizing systems with existing conveyors or other material handling equipment.
Featured Case Study

Read how we have helped many clients optimize their warehouse operations, plan for the future, and overcome material handling challenges. We have clients in the wine & spirits distribution, food & beverage, apparel, retail, consumer packaged goods, electronics, and pharmaceutical industries.

Resource Library