Stand and Deliver: Why You Should Think About Goods-to-Person Automation
Posted June 20, 2016 in Blog, Goods-to-Person/Reverse Logistics
Stand and Deliver: Why You Should Think About Goods-to-Person Automation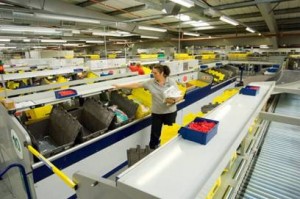 By Chris Castaldi, VP Sales
New Rule: To maximize the benefits of automation, minimize worker perambulation.
Huh?
What I mean is, having workers walk a prescribed "pick path" to fill orders (the conventional person-to-goods model) is one of the least efficient order fulfillment methods, especially in the complex, fast-moving omni-channel environment. While it was once common for workers to spend as much as 60% of their time traveling to select, retrieve and compile items into individual orders (the other 40% of their workday), the changes brought about by e-commerce – smaller, more varied orders; high-volume throughput; just-in-time ordering; and omni-channel fulfillment – have made this once-standard manual picking method virtually obsolete.
So obsolete, in fact, that it has the potential to negate the gains in productivity produced by automating other areas such as storage and retrieval (AS/RS), transportation, assembly and even WMS and ERP systems. Because walking the walk wastes production time, increases the probability of pick errors, creates the potential for congestion, bottlenecks and delays, and is physically tough on workers, it's like a black hole for productivity.
What's the alternative?
An automated goods-to-person solution that lets workers stay put, while automated inventory storage and movement systems retrieve and deliver the parts or cartons they need directly to their workstation. Instead of walking, workers are able to focus on correct ergonomics and high productivity.
Optimally, a goods-to-person solution is an integrated component of an automated fulfillment process that also might include high-density storage systems, pallet-based or tote/carton-based systems, horizontal and vertical carousels, robots, vertical lift modules, pick-to-light or voice-activated technologies, and other systems, depending on your unique product and market mix.
In a fulfillment environment that demands high-SKU-count, high-speed throughput, you can't afford to walk away from proven methods to increase productivity and efficiency, reduce time and costs, and improve worker health and safety. A well-designed goods-to-person solution is a step in the right direction.
DMW&H implements goods-to-person systems that bring products to pickers, speeding pick times and lowering walking miles. DMW&H has a variety of goods-to-person solutions available to speed your fulfillment operations.
Featured Case Study

Read how we have helped many clients optimize their warehouse operations, plan for the future, and overcome material handling challenges. We have clients in the wine & spirits distribution, food & beverage, apparel, retail, consumer packaged goods, electronics, and pharmaceutical industries.

Resource Library