Material Handling Systems Design & Engineering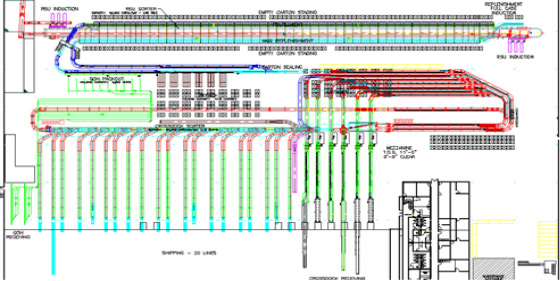 DMW&H engineering group works with customers to design and engineer material handling systems that will meet and exceed strategic, operational and financial goals. From system conception to engineering to final commissioning, DMW&H is with you every step of the way to guarantee the project's success.
DMW&H is a one-stop shop of material handling systems and warehousing services, including engineering and design, manufacturing, assembly, installation, and analysis. DMW&H provides complete systems starting at the conceptual phase through budgeting, design, engineering, manufacturing, installation, and commissioning phases.
Our engineers have credentials in engineering and design and have a practical understanding of material handling systems and how they operate. Combining this perspective with the use of today's most-advanced modeling and analysis tools along with the latest material handling equipment and applications leads to implementable recommendations that optimize space and labor utilization in your facility. We profile your current and projected material flow and product movement to design the best material handling system to meet your goals.
Our project engineers are able to think in a spatial relationship (or 3D) when designing your distribution center, allowing them to visualize the overhead conveyors, line conveyors, sortation units, mezzanines, etc. all interacting with each other over time to avoid any potential design/fit problems. We grasp a thorough understanding of your current situation, as well as of your company's goals for future growth. With these parameters in mind, our engineering staff designs the ideal distribution center or warehouse with the best quality material handling systems that deliver a quick return on investment.
Featured Case Study

Read how we have helped many clients optimize their warehouse operations, plan for the future, and overcome material handling challenges. We have clients in the wine & spirits distribution, food & beverage, apparel, retail, consumer packaged goods, electronics, and pharmaceutical industries.

Resource Library