DMW&H Discusses the New Quick Growth Retail Model at CSCMP Conference
Posted September 22, 2016 in News, Press Releases
DMW&H Discusses the New Quick Growth Retail Model at CSCMP Conference
 Helping The RealReal Meet Exponential Fulfillment Rates and Increase Throughput
Carlstadt, NJ – September 22, 2016 – DMW&H, a full-service integrator of material handling systems, announces that Michael Roe, Account Executive, will be giving a presentation at The Annual CSCMP Conference entitled, "The New Quick Growth Retail Model – How Accelerated E-Commerce Growth is Forcing Change in Distribution Retail." Robert Duron, Vice President, Fulfillment at The RealReal Inc., the premier site for online luxury consignment, is the co-presenter. As a senior level executive with more than 25 years of experience leading operations and supply chain strategies from conception through maturity, Bob Duron has leveraged his time with the top tier companies to build infrastructure for significant increased sales and revenue growth.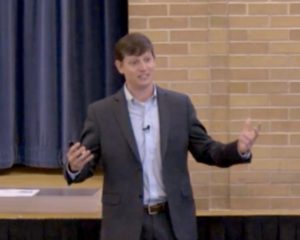 "The traditional slow and steady growth model in retail is being replaced by a new quick growth model driven by the rise in e-commerce," said Chris Castaldi, VP Sales at DMW&H. "This puts a greater strain and demand on fulfillment operations, requiring retailers to add automation throughout their warehouses and distribution centers to speed fulfillment, boost productivity and increase throughput."
The New Quick Growth Retail Model – How Accelerated E-Commerce Growth is Forcing Change in Distribution Retail takes place from 2:00 PM – 3:15 PM on Tuesday, September 27, 2016 in Room Osceola 3-4 at the CSCMP Conference. The Council of Supply Chain Management Professionals (CSCMP) hosts an annual conference with unlimited opportunities to learn from industry experts, hear dynamic speakers and network with the most influential supply chain leaders in the world. This year's conference takes place near Orlando at the Gaylord Palms Resort and Convention Center in Kissimmee, Florida.

The RealReal Inc. is a global e-commerce provider of authenticated, pre-owned, designer fashion, fine art, jewelry, shoes and handbags. Started in 2011, the company has grown to 4.5 million members selling 40,000 luxury items each month for a total of over 2 million items since inception. As the company grows, they add new warehouse space, including a new 129,000 square foot warehouse in Secaucus, NJ, which handles fulfillment operations for the company. Robert Duron has over 20 years of experience leading operations and supply chain strategies for major retailers and logistics companies.
DMW&H is America's most experienced integrator of warehouse software and automated material handling equipment. By optimizing the flow of merchandise through distribution centers, DMW&H speeds fulfillment while reducing labor for retailers and distributors in numerous industries. As an Account Executive with DMW&H, Michael Roe is dedicated to making his client's fulfillment operations more cost effective and efficient. He is part of an up-and-coming generation of supply chain experts that leverage new technologies and ideas to generate superior results. Over the past 5 years, Michael has worked with several industry leading companies such as Amazon.com, REI, and most recently, TheRealReal.com.
About DMW&H
DMW&H designs, integrates, installs and supports complex material handling systems for the industrial, food/beverage, wine & spirits, parcel and retail industries. Delivering a Total Warehouse Solution with a wide range of material handling equipment, DMW&H continues to lead the industry in competitive services and pricing to the mid-level market, priding itself on bringing projects in on time and under budget, along with creating systems matched to individual customer needs. By combining some of the industry's best talent with the size, reputation and corporate capabilities of the Dearborn Mid-West and W&H Systems brands, DMW&H is primed for continued rapid growth. Visit us at www.dmwandh.com.
Featured Case Study

Read how we have helped many clients optimize their warehouse operations, plan for the future, and overcome material handling challenges. We have clients in the wine & spirits distribution, food & beverage, apparel, retail, consumer packaged goods, electronics, and pharmaceutical industries.

Resource Library