DMW&H Named Top Private Business in New Jersey
Posted August 31, 2016 in News, Press Releases
DMW&H Named Top Private Business in New Jersey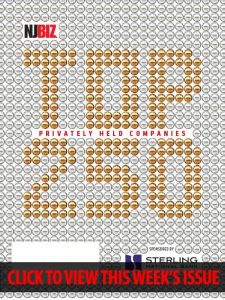 30% Increase in Revenues for Material Handling Systems Integration Projects
Carlstadt, NJ – August 31, 2016 – DMW&H, a full-service integrator of material handling systems, announces that the company has been named to the prestigious list of the Top 250 Privately Held Companies in New Jersey by NJBIZ, New Jersey's leading business journal. Manufacturers, utilities, logistics, construction, service companies and IT firms make up the list of companies ranked by 2015 revenues. DMW&H showed a 30% increase in revenues between 2014 and 2015, due to organic growth from new client acquisitions and customer expansions.
"DMW&H has long stood out in the crowd by focusing on exceeding customer expectations, delivering on promise, and being on the forefront of technology innovation," said Joe Colletti, President and CEO of DMW&H. "We understand our customers' business goals and needs, and look holistically at their warehouse configuration and distribution operations, then design a material handling solution that speeds goods through distribution and improves efficiencies in fulfillment. We are honored to be named as a Top Privately Held Company in New Jersey."
DMW&H is a material handling systems integrator for industries in the apparel, footwear, third party logistics, parcel, pharmaceuticals, department stores, e-commerce, food & beverage, and wine & spirits markets. As a one-stop shop with a broad range of material handling automation equipment, design and engineering services, software and support, DMW&H offers next-generation solutions that reduce labor, improve productivity, streamline processes, lower operating costs and maximize equipment utilization.
DMW&H has won numerous awards this year, including Food Logistics Top 100 Green Supply Chain Provider Awards and Supply & Demand Chain Executive Top 100 Supply Chain Projects for a project to improve e-commerce fulfillment and space utilization for a rapidly growing online retailer. Vice-President of Food & Beverage at DMW&H, Paul Laman, was named a Food Logistics Rock Star for his expertise and detailed problem-solving skills for wine and spirits distributors.
About DMW&H
DMW&H designs, integrates, installs and supports complex material handling systems for the industrial, food/beverage, wine & spirits, parcel and retail industries. Delivering a Total Warehouse Solution with a wide range of material handling equipment, DMW&H continues to lead the industry in competitive services and pricing to the mid-level market, priding itself on bringing projects in on time and under budget, along with creating systems matched to individual customer needs. By combining some of the industry's best talent with the size, reputation and corporate capabilities of the Dearborn Mid-West and W&H Systems brands, DMW&H is primed for continued rapid growth. Visit us at www.dmwandh.com.
Featured Case Study

Read how we have helped many clients optimize their warehouse operations, plan for the future, and overcome material handling challenges. We have clients in the wine & spirits distribution, food & beverage, apparel, retail, consumer packaged goods, electronics, and pharmaceutical industries.

Resource Library