Two DMW&H Executives Named MHI Outstanding Young Professional Finalists
Posted April 13, 2017 in Blog, News, Press Releases
Chris Youngs and Michael Roe Selected for Innovation & Contributions to the Industry
Carlstadt, NJ – April 13, 2017 – DMW&H, a full-service material handling solutions provider, announces that two team members were named as Outstanding Young Professional Finalists in the Material Handling Institute (MHI) Young Professional Network Awards. The Outstanding Young Professional Award is bestowed to an MHI member under the age of 40 who has displayed professional accomplishments and affiliations, effective leadership skills, and contributions to their company and innovation at work or in the industry. Chris Youngs and Michael Roe, both Account Executives at DMW&H, were honored at ProMat 2017 Industry Night as Finalists.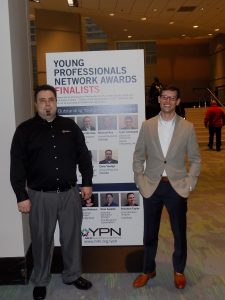 Chris Youngs has twelve years of experience as a professional in the material handling industry, selling turnkey solutions to warehouses and distribution centers in North America. He is known for going the extra mile to create solutions that fit the customer's needs. He is active in WERC, MHI, and CSCMP. Before DMW&H, he worked for Murata Machinery, vonGAL, Oz Technology, and Rite-Hite Equipment.
"Chris' ability to understand what the customer wants and to deliver makes him a valuable player in the material handling industry. His passion and drive will continue to make him influential in material handling in the upcoming years," said Joe Colletti, President and CEO of DMW&H.
Michael Roe has five years of experience in the material handling industry building and maintaining client relationships while creating out-of-the-box solutions for fulfillment centers in the e-commerce, convenient stores, and retail verticals. He is an active member of MHI, CSCMP, WERC, RILA, and the Atlanta CSCMP Roundtable. He was named a Supply & Demand Chain Executive Pro to Know in 2017. He frequently speaks at industry conferences and is published in numerous material handling trade publications.
"Michael is becoming the voice of the new generation of material handling professionals," added Colletti. "He is part of an up-and-coming generation of supply chain experts that leverage new technologies and ideas to generate superior results. Over the past 5 years, Michael has worked with several industry leading companies such as Amazon.com, REI, and most recently, TheRealReal.com."
MHI Young Professionals Network's mission is to provide resources and programming to a diverse group of professionals looking to advance their careers in material handling, logistics and supply chain industries. Their goal is to increase industry retention, education and networking as well as to offer career support. A minimum of three letters of recommendation from individuals who have been associated professionally with the nominee are required for the award nomination, along with submissions on their contributions, accomplishments and affiliations.
About DMW&H
DMW&H designs, integrates, installs and supports complex material handling systems for the industrial, food/beverage, wine & spirits, parcel and retail industries. Delivering Material Handling Solutions, DMW&H continues to lead the industry in competitive services and pricing, priding itself on creating systems matched to individual customer needs. By combining some of the industry's best talent with the size, reputation and corporate capabilities of the Dearborn Mid-West and W&H Systems brands, DMW&H is primed for continued rapid growth. Visit us at www.dmwandh.com.
Featured Case Study

Read how we have helped many clients optimize their warehouse operations, plan for the future, and overcome material handling challenges. We have clients in the wine & spirits distribution, food & beverage, apparel, retail, consumer packaged goods, electronics, and pharmaceutical industries.

Resource Library