DMW&H Selected as One of the Best Places to Work in New Jersey for 4th Consecutive Year
Posted April 28, 2017 in News, Press Releases
Material Handling Solutions Provider Ranks #64 on NJBIZ's 2017 Best Places to Work List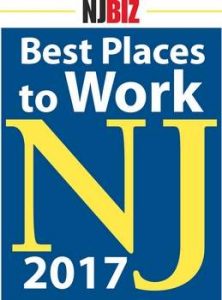 Carlstadt, NJ – April 28, 2017 – DMW&H, a full-service material handling solutions provider, announces that the company has once again been honored with the 'Best Places to Work in New Jersey' award. This is DMW&H's fourth consecutive win of this prestigious award presented by NJBIZ. The "Best Places to Work in New Jersey" awards program recognizes and honors the state's top employers who show a dedication to their employees' professional growth and quality of life. DMW&H ranked #64 on the list of small/medium-sized companies.
"DMW&H is honored to be named a 'Best Places to Work in New Jersey' for the fourth time," said Joe Colletti, President and CEO of DMW&H. "Our employees make our business stand out because of their enthusiasm and dedication to meeting customer needs with innovative solutions that make clients' businesses operate more efficiently and productively. We will continue to create a workplace where our employees enjoy working and thrive in their careers."
"We are excited to once again be named a 'Best Places to Work' and appreciate the dedication of our employees as we strive to provide the best work environment that honors professional growth and quality of life," said Joe Colletti. "By nurturing an innovative and collaborative culture where people with a variety of thoughts, ideas, and backgrounds come together, we've been able to build a successful company and a great place to work."
Companies from across the state enter into the two-part process to determine the 100 Best Places to Work in New Jersey. The survey process was managed by Best Companies Group who analyzed the data and used their expertise to determine the final ranking. The list is comprised of 70 small/medium companies and 30 large companies. The primary goal of the program is to help companies improve their workplace practices, which will attract and retain talent while ensuring continued business success. For more information on the 2017 Best Places to Work in New Jersey program, please visit www.bestplacestoworkinnj.com.
To learn more about career opportunities at DMW&H, visit www.DMWandH.com.
About DMW&H
DMW&H designs, integrates, installs and supports complex material handling systems for the industrial, food/beverage, wine & spirits, parcel and retail industries. Delivering Material Handling Solutions, DMW&H continues to lead the industry in competitive services and pricing, priding itself on creating systems matched to individual customer needs. By combining some of the industry's best talent with the size, reputation and corporate capabilities of the Dearborn Mid-West and W&H Systems brands, DMW&H is primed for continued rapid growth. Visit us at www.dmwandh.com.
Featured Case Study

Read how we have helped many clients optimize their warehouse operations, plan for the future, and overcome material handling challenges. We have clients in the wine & spirits distribution, food & beverage, apparel, retail, consumer packaged goods, electronics, and pharmaceutical industries.

Resource Library