Beverage World Magazine: 2015 Warehousing Innovation Awards
Posted June 08, 2015 in News, Wine & Spirits
As Seen in Beverage World Magazine – April 2015 Issue –  2015 Warehousing Innovation Awards:  Reaching New Heights
The result is beverage distributors increasingly need products and services that drive efficiency and productivity in the warehouse and in the supply chain. Warehouse solutions providers are meeting this demand with innovative, high-performance solutions. These may include storage systems like racking or automated storage and retrieval systems (AS/RS), voice-directed picking or warehouse management systems.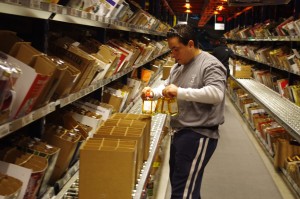 Suppliers are constantly innovating in each of these areas, helped in part by stunning advances in computing power and robotics. The result is a very exciting time to be involved in beverage distribution, as it is literally being transformed by technology and cutting edge systems.
To honor those companies that are leading the beverage warehouse into the future, we present our first-ever Warehousing Innovation Awards, our choice of solutions providers that are leading the market with exceptional services and products.
W&H Systems
Often when distributors are moving into a new facility or consolidating several facilities into one, they look to upgrade their material handling solutions or add automation. W&H Systems provides The Total Warehouse Solution including design, equipment, implementation and support, implementing conveyor systems, high-speed carton and unit sortation, AS/RS, palletizers, paperless picking and packing systems. W&H provides the Intelligrated Intellisort HS "soft touch" sliding shoe sorter designed for the highest throughput rates. The system provides high-speed, gentle carton control and divert accuracy and reduces item impact speed by 500 percent. Says Paul Laman, vice president of sales,  "Over the past 20 years, we have taken the best practices and keep building on them."
Featured Case Study

Read how we have helped many clients optimize their warehouse operations, plan for the future, and overcome material handling challenges. We have clients in the wine & spirits distribution, food & beverage, apparel, retail, consumer packaged goods, electronics, and pharmaceutical industries.

Resource Library